CUSTOM STAGE LIGHTING SERVICES
We offer professional, computer controlled stage lighting services for small to medium size events where proper, controlled effects and/or ambient lighting is a desired requirement.

Absolutely perfect for smaller stages at festivals, and any customized events such as exclusive or corporate parties. We can create anything from that big festival event feeling, full-on raves, or something more subtle lighting. Perfect for bands, singers, raves, DJ's and presentations. We're happy to work with you to achieve your desired look and feel, and can also offer plenty of advice where needed.

We can work with you through all the aspects of planning an event, and our service includes consultation, proposal, planning, DMX programming, installation, stage management, and disassembly and de-rigging. We can also provide risk assessments, and other appropriate health and safety documentation, as required.

Please get in touch to discuss your requirements today.
new PERSONAL MUSIC PLANNER update
We're constantly working to improve our customer's experience whilst working with us, and so we've finally got around to adding Spotify integration into our online music planner, by popular demand! This service is available to anyone who books their DJ through us, enabling you to seamlessly add individual tracks and even complete playlists directly into your personal planner account.

If you don't use Spotify, don't worry you can still use this service to build up your perfect playlist though! This service is currently still in beta, but is available to all of our customers old and new, so please let us know of your experience.
It's not every day you get your own professional DJ, why not choose one that works with you? If you consider quality entertainment to be an important part of your wedding day (and we think you should), then we can probably help.
Your wedding day should be one of the most significant moments in your entire life. It is should be a joyous occasion filled with fun, romance, family and friends. This unique day should be forever etched in your mind, and we believe you shouldn't have to settle for compromise from any of your suppliers.
If you have a planning to hold your wedding in, or around Gloucestershire, read on to find out why not all mobile DJ's are the same, and how we strive to be better in all respects of our service.
We offer a massive range of audio and lighting equipment, DJ kit, wedding and party props, and room decoration items.
We can work with you to fit in to with your schedule, install equipment at agreed and convenient times.
From Pioneers CDJ's, audio equipment for bands or background music at your event, complete DIY mobile discos for pubs or venues, and a whole range of ambient venue lighting, including internal and external uplighting, fairy lighting, and monogram projections.
All our equipment is electrically tested, where appropriate, installed safely by our professional and trained staff, and we are covered by comprehensive insurance policies.
Our brand new magic mirror actually engages your guests with colorful voice animations and prompts. Your guests will be amazed by this "talking" photo booth!
The Magic Mirror photo booth adds an entertainment value to your event that old school booths just can't provide. Brides are always looking for new ways to entertain guests so why not choose something that's in vogue and is something that pleases the crowd easily? The Mirror photo booth will surely be the hit of your reception.
Looking to take your event to the next level? With our silent disco headphones rental packages throwing your own silent disco couldn't be easier.
We can supply silent disco hire services for any type of event throughout the whole of the South of England, either with or without DJ's as part of the package.
Our transmitters can be plugged into any music playing device including ipods/iphones and other mp3 devices all the way up to DJ amplifiers and televisions!

Our prices start at just £95 (for dry hire, excluding delivery/setting up/collection).
Why not get in touch to discuss your requirements?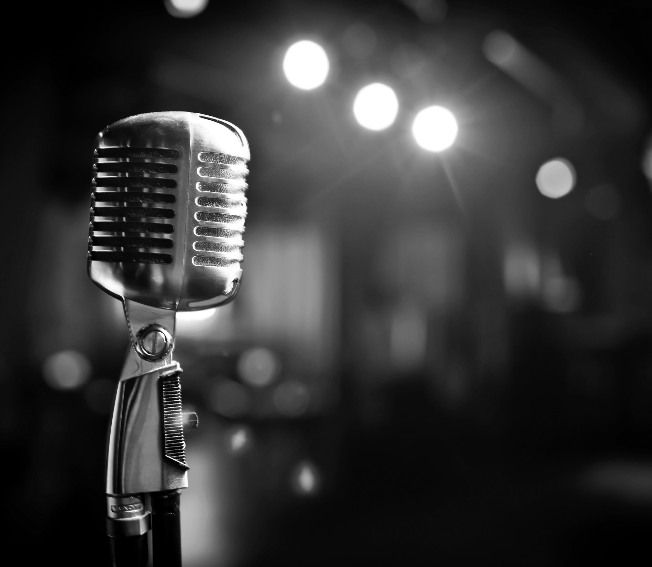 Add karaoke to your evening's entertainment, either making it the main event, or alongside a fantastic disco. Perfect for any kind of event, and also works well at corporate evenings, and team building.
Getting married in one of Gloucestershire's many beautiful barns? We offer our beautiful and unique shabby chic disco that fits perfectly into rustic spaces, and comes complete with recycled scaffold lighting truss, and Edison light fittings, along with modern effects lighting, and high quality sound system. Available as on add on for any event booked with us.
We stock white starlit dancefloors, black and white chequerboard style, and modern oak designs. Our service includes full delivery and installation to your venue. Create your look with a beautiful dancefloor for you and your guests to dance the night away on.
Choose the Music You Want to Hear!
Planning the details of your reception and creating your own wedding soundtrack will be a snap with our easy to use cloud based planning software.
Not sure exactly what you want or what is even possible? No problem! Our software will walk you through every step of your event, letting you create timelines, music lists and more. You'll be able to customize everything exactly the way you want.
You never have to worry about losing your information, song lists and time lines because they are all safely stored in the cloud. Accessible 24/7 from any PC, Mac, Tablet or Smartphone, you can plan your wedding anywhere and anytime.
Here are just a few of the great things you can do with our online event planner:
Make a custom list of music for your event – including a Do Not Play list!
Create a timeline for your event.
Plan the music for wedding ceremony.
Select your preference for DJ Interaction and crowd participation.
Never lose your planning and music information.
Access your planning forms 24/7 anywhere in the world!
Get in Touch!
You can click here to chat to us live, or fill in the form below and tell us something about your amazing event. Don't forget to mention when and where you are holding it, what it is, why it's special, and what your looking for regarding your mobile DJ, plus the music you love, and anything else you feel is relevant. We'll get back as soon as possible with some great ideas and prices.